Our History Within the NY Art Scene
Featured Artists & Curators
We are honored to be the home of a distinctive art collection commissioned by art aficionado and industry expert Paige Powell. Business and leisure travelers with a discerning eye and elegant taste will appreciate the works that reflect The Lexington Hotel, Autograph Collection's rich history and New York City-centric music and entertainment tradition.
Featured artists are locally and internationally renowned and work within a wide range of mediums — with murals, photos and three-dimensional installations among the collection. Through curating this magnificent collection, Powell has commissioned works that reflect our commitment to preserving the uniquely New York Jazz Age and Art Deco past that made our NYC hotel famous, while also providing fresh new perspectives on classic works.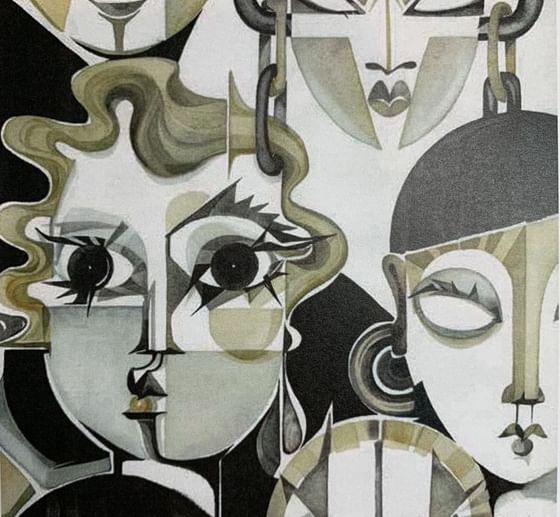 Ruben Toledo
The star of our hand-curated art collection, Toledo is from Deco-Dance. Paintings with watercolor, ink and graphite transferred to vinyl are displayed in the entrance into the lobby elevator bank — from the stairwell leading dramatically up to the mezzanine level and its walls. The corridors of each floor with guest rooms also feature five different prints at each landing. "This is my interpretation and extrapolation of the legend and spirit of Art Deco architecture, the canyon that is New York City architecture, the fusion of jazz, literature, art and graphic design and the spirit of travel and discovery both spiritually and physically — all for the visual joy of public consumption."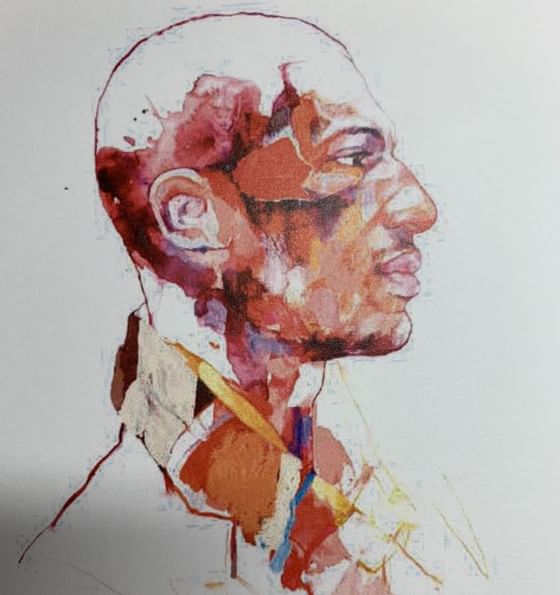 Alex Asher Daniel
The four portraits near our lobby elevators were painted by the New York City artist and represent four generations of the New York City jazz scene. This collection is a nod to our jazz history and highlights the talent of the city's contemporary jazz era. Subjects include veteran jazz vocalist Sheila Jordan, legendary free jazz bassist William Parker, acclaimed trumpeter Jeremy Pelt and band leader Jonathan "Jon" Batiste of the now popular "Late Show With Stephen Colbert." These great musicians sat for portraits exclusively for our hotel in winter 2012.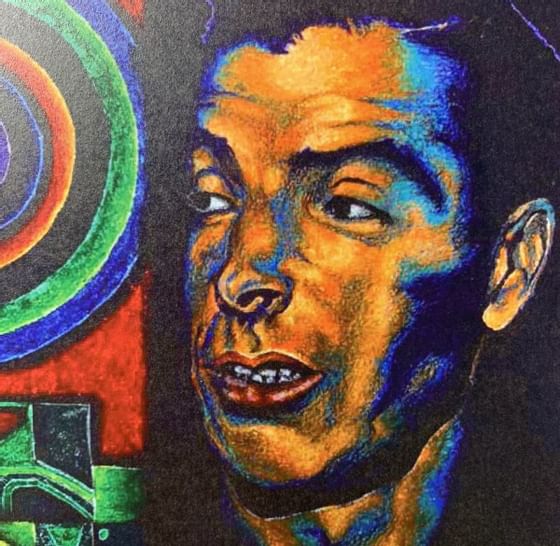 Alex Morel
A diptych that includes Marilyn Monroe and Joe DiMaggio caught in a gaze is featured in our Centerfield Suite and represents true love that resonates in the lovers whether they were together or apart. While the couple was married for less than a year, it was an affair of two personages captured by Morel.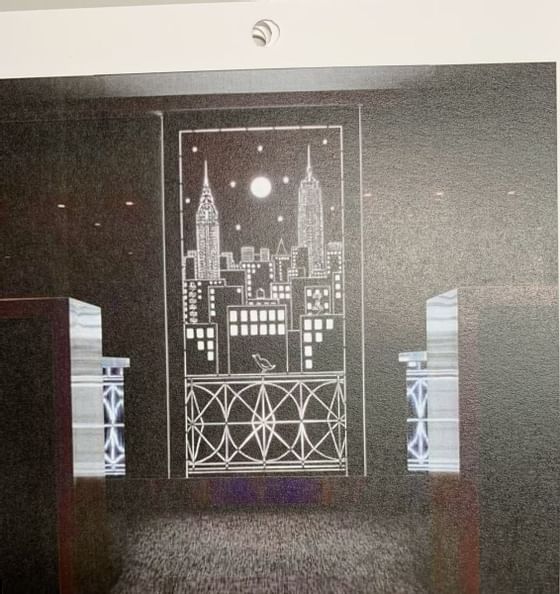 Alba Clemente
Because Clemente's background is in theater, she approached The Lexington New York City lobby as a stage. Her pieces, prominently displayed in our living room, are four large screens and an imaginary balcony with a Southern view of Manhattan. "I wanted to create mysterious Indian marble screens, but with a contemporary eye."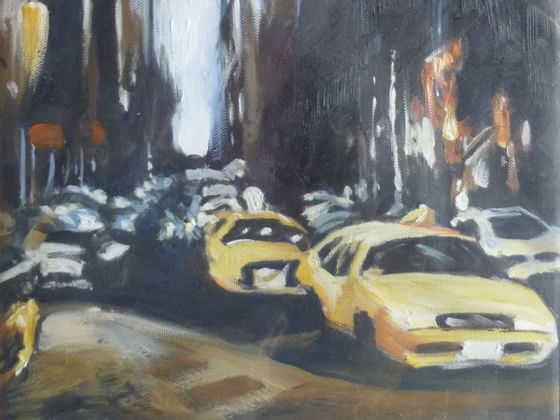 Michael Considine and Will Oransky
This duo is from Arthouse at Brooklyn Flea, formed by Jennifer Curcic as a special project to make affordable handmade art. All of the works for sale are hand-drawn, hand-painted or handcrafted and priced by an individual artist. All are unsigned to differentiate them from other pieces that the artists sell privately. The venue is used as a creative outlet to pursue personal means of expression, experiment with different techniques or subject matters and create profit to support budding artists. The goal is to encourage the appreciation and ownership of art, especially among people who feel priced out of or intimidated by the art world.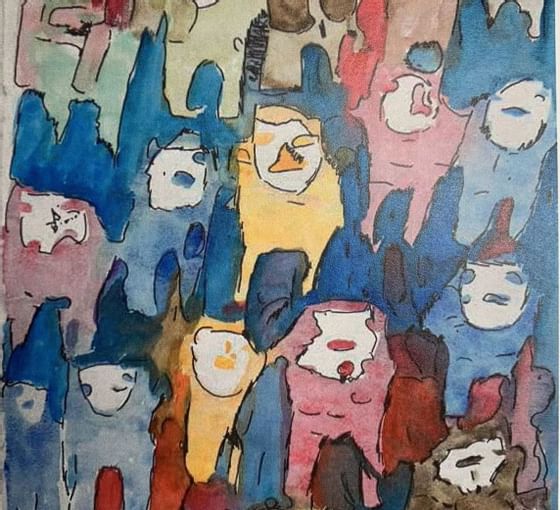 Dan Miller, Donald Mitchell, George Wilson, Gerone Spruill and Monica Valentine
These artists are from the Creative Growth Art Center based in Oakland, CA. The center serves adult artists with developmental, mental and physical disabilities, providing a professional studio environment for artistic development, gallery exhibition and representation along with a social atmosphere among peers. Artwork fostered in this unique environment is included in prominent collections and museums worldwide.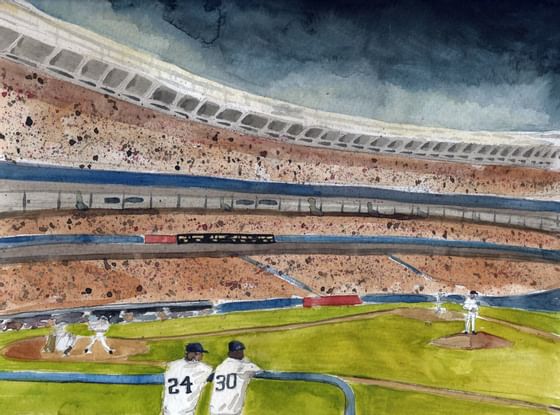 Jessica Bonin
Our lobby bar mural in The Mixing Room exudes a feeling of history with a rich golden patina, drawing reference to the artwork in the historic Bemelman's Bar. A fish-eye perspective of repeating city blocks emphasizes the grandiosity of New York City architecture, dwarfing the viewer from a street's-eye perspective.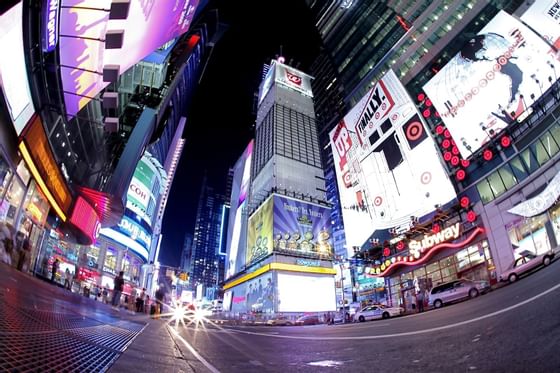 John W. Tracy
Photos of five subjects — a turntable, drums, Brooklyn Bridge, amp and neon New York sign — are placed throughout our public spaces and specialty suites. Tracy's inspiration for this art series, titled "City of Dreams," was the New York City lifestyle, the culture that is seen and heard through music.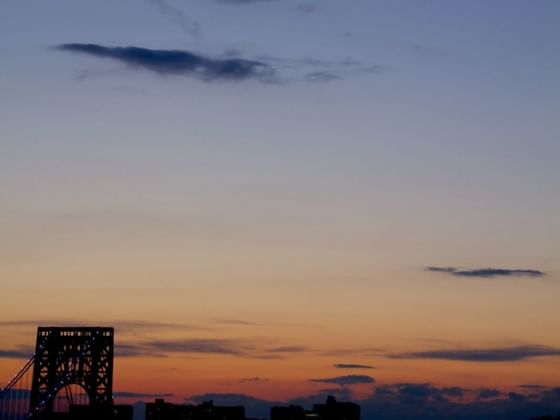 Matt Jay
Featured on a video screen in our Marriott Midtown NYC hotel's library, Jay's piece travels the length of Manhattan end to end as the camera in "Island" does. The piece reveals an inherent poetic structure to the city that can only be felt when taken in full. As a linear journey, the city begins and ends in nature, with the opposite atmosphere in between. There is also an extended interlude of nature in Central Park that fulfills the atmospheric back and forth of quiet and chaos. It is a structure that can be seen as musical or even narrative. The 16mm format is an aesthetic and conceptual choice that lends the piece a grainy texture that mirrors the rich historic nature of The Lexington New York City.
To appreciate these works of art, along with the exclusive privileges and personalized attention that make The Lexington New York City a world-class destination, reserve a stay in our well-appointed rooms and suites today.